Introducing…L'Oreal Instant Highlights

Save time with NEW L'Oreal Highlighting System at Collections Hair Club salon in Weybridge
You can now dramatically cut the time it takes to have your hair highlighted with a fantastic new hair colour service, available at our award-winning Weybridge salon. This new service from L'Oreal Professionnel allows us to create four in-demand looks in super fast time. Choose from our Instant Highlights menu:
#INSTA CONTOURING
This clever contouring technique uses the placement of highlights to frame your face and help accentuate your features.
#INSTA REVIVE
Bring your blonde back to life! Revive and brighten your grown-out ombre or balayage with creative placement of highlights for a completely bespoke look.
#INSTA LIGHTS
Enhance any colour with delicately woven soft highlights. This is ideal for first-time highlighters. Soft ribbons of light are placed through your hair to brighten your hair for a low-maintenance look.
#INSTA POP
Dial it up with bold statement flashes of colour or dial it down with softer pastel pops of colour. This is a temporary hair colour that will wash out after a few washes. Perfect for an instant on-trend update!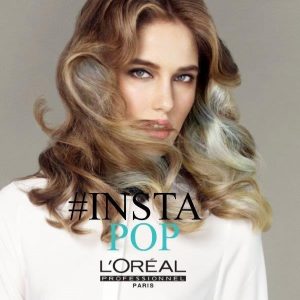 How does Instant Highlighting work?
Instant Highlights from L'Oréal Professionnel is designed to give up to six levels of lift, in a fraction of the time it usually takes to have your hair highlighted. Your hair will be highlighted in a controlled and safe way using L'Oreal lightening cream, specially designed aluminium foil and the Instant Highlights Heating Iron – uniquely designed with a spacer between the plates to help protect hair from damage.
How much do Instant Highlights cost?
Up to 8 instant highlights | £35.00
Up to 15 instant highlights | £65.00
These prices include the application of a toner and complimentary Smartbond treatment (worth £25.00). Toner will add further depth and beauty to your highlights, while Smartbond is a great way to protect and strengthen your hair. Please note: We are also happy to discuss creating a bespoke look for your hair using Instant Highlights.
Terms & Conditions
Your service will come with a complimentary rough dry / There will be an additional charge of £10 or £20 if toner is needed on existing hair colour